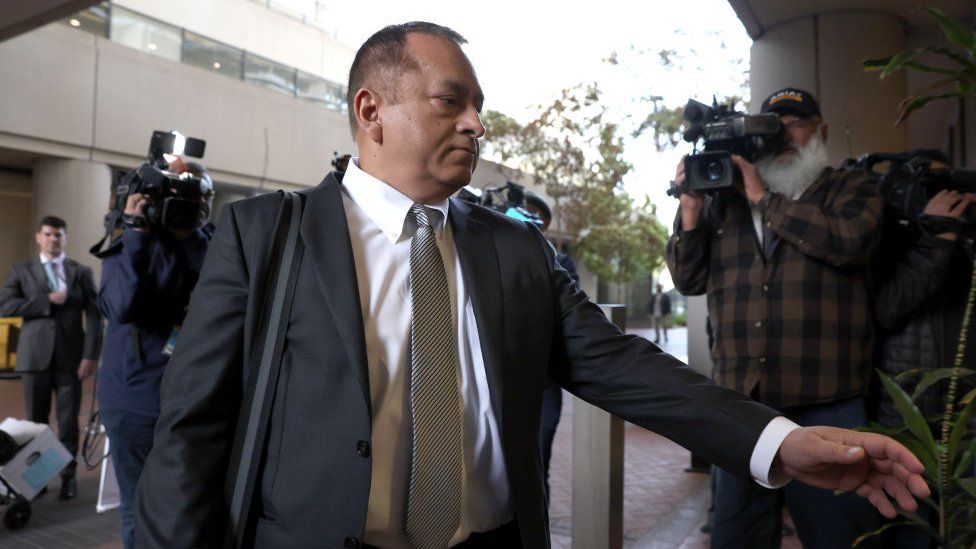 By Madeline Halpert
BBC News, Washington
Ramesh "Sunny" Balwani, the business partner of disgraced Theranos founder Elizabeth Holmes, has been sentenced to nearly 13 years in prison.
Balwani was convicted in July of 12 counts of wire fraud and conspiracy to commit wire fraud for his role in the failed blood-testing start-up.
Theranos executives falsely claimed the product could diagnose illnesses with a few drops of blood from a finger prick.
Holmes was sentenced to over 11 years (135 months) in prison last month.
A judge sentenced Balwani on Wednesday to 155 months.
Once hailed as the "next Steve Jobs", Holmes was at one time said to be the world's youngest self-made billionaire.
She launched Theranos after dropping out of Stanford University at age 19, and its value rose sharply after the company claimed it could bring about a revolution in disease diagnosis.
Balwani, the company's former president and chief operating officer, served as her second-in-command and had direct oversight over the company's labs.
Though the two were originally charged together, their trials were separated after Holmes accused Balwani of emotional and physical abuse during their romantic relationship, which occurred during their time at Theranos. Balwani has denied those allegations, too.
Theranos' value skyrocketed after the company claimed it could use a small device to process blood samples, an invention they said would mark a revolution in the healthcare world. Holmes claimed the technology - called the Edison machine - could diagnose cancer, diabetes and other medical conditions from a finger prick.
The company raised millions of dollars from high-profile figures including former US Secretary of State Henry Kissinger, media magnate Rupert Murdoch and Oracle co-founder Larry Ellison.
But the technology did not work, and the company fell apart in 2018. Holmes - now pregnant with her second child - and Balwani were found guilty of deceiving investors in trials this year.
Balwani - who worked as a software executive before Theranos - was also found guilty of defrauding patients who used the blood tests.
Prosecutors had recommended that the 57-year-old pay $804m (£658m) in restitution and serve a 15-year prison sentence. They argued in court filings that Balwani was an "equal participant" in the company's false claims about its technology.
Balwani's lawyers argued he did not start Theranos and did not have final decision-making power over the company's strategy.
The blood-testing start-up's downfall has been documented in several popular series and podcasts as well as a book by former Wall Street Journal reporter John Carreyrou, who broke the news of the scandal in 2015.