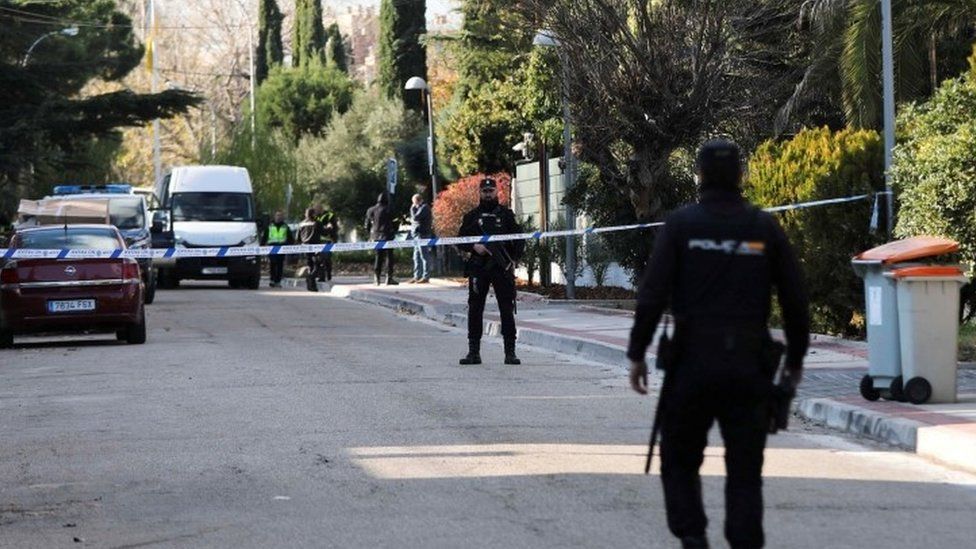 By Robert Greenall
BBC News
Suspicious or threatening packages sent to Ukrainian diplomatic missions all had the same sender address - a Tesla dealership in Germany - Ukraine's foreign minister says.
Dmytro Kuleba added that 31 Ukrainian embassies and consulates in 15 countries received the packages.
They were sent from post offices with no surveillance, he said, and senders took care to hide their identity.
Ukraine said at the time that bloody packages containing animal eyes had been sent to eight embassies in Europe, but more have been affected since.
The Tesla dealership in question is in the town of Sindelfingen, in southwestern Germany.
"Usually, the shipment was made from post offices that were not equipped with video surveillance systems," Mr Kuleba wrote in a Facebook post.
"Criminals also took measures not to leave traces of their DNA on the packages. This, in particular, indicates the professional level of implementation."
He said six packages were sent to Poland, five to Spain, four to Italy, two each to Portugal, Romania, Hungary and the Czech Republic, and one each to Austria, the Vatican, Denmark, Kazakhstan, the Netherlands, the US, France and Croatia.
The most recent of the attacks were in the past two days, he added.
The incidents followed a letter bomb blast at Ukraine's embassy in Madrid a week ago which injured an employee. More bombs sent to other locations in Spain were defused.
"I don't remember any instance in history that so many embassies and consulates of one country have been subjected to such mass attacks in such a short period of time," said Mr Kuleba.
He added that Ukraine's "enemies" would not be able to intimidate it, and that Kyiv would continue to "work for victory" in its war against Russia.