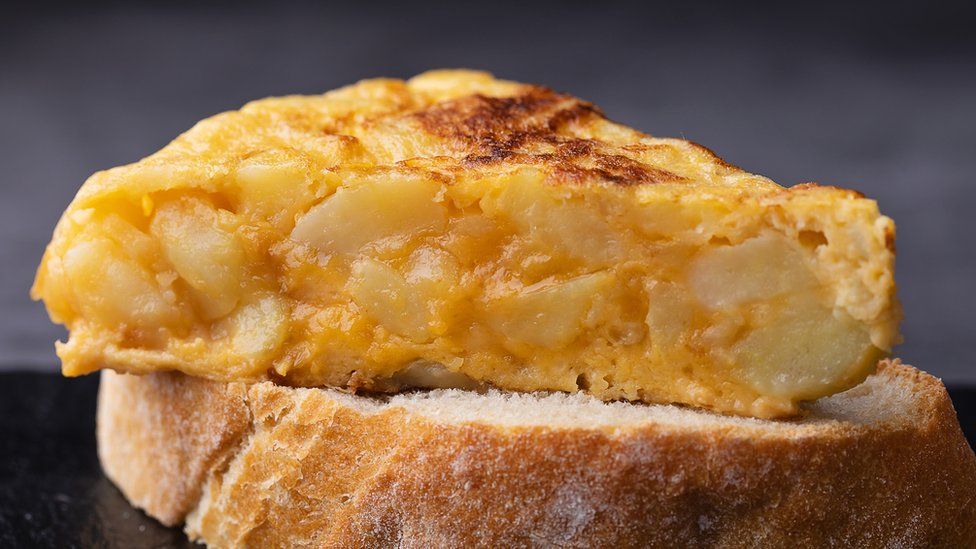 A restaurant in Madrid known for its egg tortillas has temporarily closed after a salmonella outbreak - triggering a debate over how the iconic Spanish dish should be cooked and how runny it should be.
The dish typically contains a mixture of fried potato and egg, often with onion, and is one of Spain's most widely eaten foods. Casa Dani is known for only lightly cooking the eggs, serving a particularly runny version.
It closed temporarily after at least 59 people complained of food poisoning, having eaten tortilla there last week. Six have been hospitalised, according to the Madrid region's health department.
Casa Dani says it is co-operating with the local health authorities to ensure its kitchens are salmonella-free and can open again soon.
It has won a number of prizes, including the 2019 Spanish potato tortilla championship, and featured in the Netflix foodie series Somebody Feed Phil. It serves around 100,000 tortillas each year.
The case has put under scrutiny how restaurants prepare this dish and the regulations governing the cooking of eggs.
For the last three decades, government guidelines have meant that eggs served to the public either have to be pasteurised or, if fresh, cooked through at a temperature of at least 75C.
In December 2022, a government decree slightly loosened those rules, stating that fresh eggs should be cooked through at "70C or more for two seconds" or "at a temperature of 63C for 20 seconds".
These temperatures are important: egg white sets at around 62-65C and egg yolk at 65-70C.
"We put a thermometer into the tortilla, and we leave it cooking at 70 degrees for about two minutes and that kills all the bacteria," says Alfredo García, owner of Sylkar restaurant in Madrid, which specialises in the dish. "At 70 degrees it's still runny."
María del Toro, of the La Rioja Centre for Biomedical Research (CIBIR), told La COPE radio station that "we all like [a runny tortilla] but it has more risk, especially for children, pregnant women and elderly people".
The regional government of Madrid has also offered its own advice on the matter, warning that the summer is particularly propitious for salmonella in tortillas.
"This happens when fresh eggs are used, the centre of the tortilla does not set and the cooked tortilla is left at room temperature for more than two hours before being consumed," the local government says on its website.
These guidelines advise against cleaning eggs before putting them in the fridge and against breaking eggs on the plate used for preparing them, to avoid contamination.
They also advise using pasteurised eggs, as opposed to fresh eggs, if making a runny tortilla.
However, 90% of customers in Sylkar restaurant prefer a runny tortilla with fresh eggs, Mr García says - although he admits that the Casa Dani case has pushed many diners to request that it be more cooked than normal in recent days.
But he points out that preferences regarding the solidity or liquidity of tortilla are also influenced by geography.
"South of Madrid, people prefer them much more set," he says. "In Andalusia, tortillas are like bricks. In northern Spain, tortillas tend to be much less set, much more liquid."
The tortilla has long been a battleground for differing tastes over another issue: whether or not to cook it with onion.
"If you're one of those who uses onion, switch off now," warned Dani García, owner of Casa Dani, in a recent cooking video.
But the veteran TV chef Karlos Arguiñano takes a different view.
"Tortilla without onion is champion of Europe," he said recently. "But tortilla with onion is champion of the world."